Last updated on 2021-10-24
Willson Peak is one of the better Bay-Area hikes. It has vistas, peaks, valleys, ridges, open air, and covered forest. There are many routes available allowing for loops instead of the dreaded "out-and-back". Some trails are short and steep to the top, while others are longer and more forgiving. It's perfect for getting some exercise but not taking the entire day. Not too challenging for reasonably fit beginners, but not so easy that more experienced hikers feel like they didn't do anything.
Watch a video version of this trip report here: https://youtu.be/k3aqDssCY7A
Henry W. Coe State Park is a great park because it is large and has a lot of variation in terrain. In addition to the normal car-camping spots and day hiking trails, the park offers a brochure on suggested overnight backpacking trips. Several years ago (pre-SOTA) I took my son on his first overnight backpacking trip to Henry Coe when it was brutally hot and we discovered a tiny stream that developed into a swimming hole with a dozen other hikers taking a break from the heat. He had a great time with that unexpected swimming experience. Fast-forward to this SOTA trip with my wife and it was a completely different part of the park with a very different feel.
My wife, K6LWM, and I entered at the Hunting Hollow Entrance where there is a large and mostly empty parking lot. This is not the "main" entrance to the park (which has historic buildings and such). Originally we wanted to start on the Grizzly Gulch Trail that is further up the road at the intersection of Gillroy Hot Sprints Road and Coit Road (here), but the park no longer allows any parking anywhere in the area except at Hunting Hollow. In fact, we arrived when there was a ranger there and re-confirmed the "no-parking" fact. My wife since researched that there is a group working to re-open the historic hot springs (Google it: interesting), but for now that is not a reality. Also, our original plan would not have allowed for a loop hike, which is so much nicer than an out-and-back.
So, net-net, the Hunting Hollow parking lot is the best place to start. As you can see in the photo: there are basic facilities, lots of parking, and access to several key trailheads.
[Click on the images to go full screen, and click on the left/right arrows to sequence through all images.]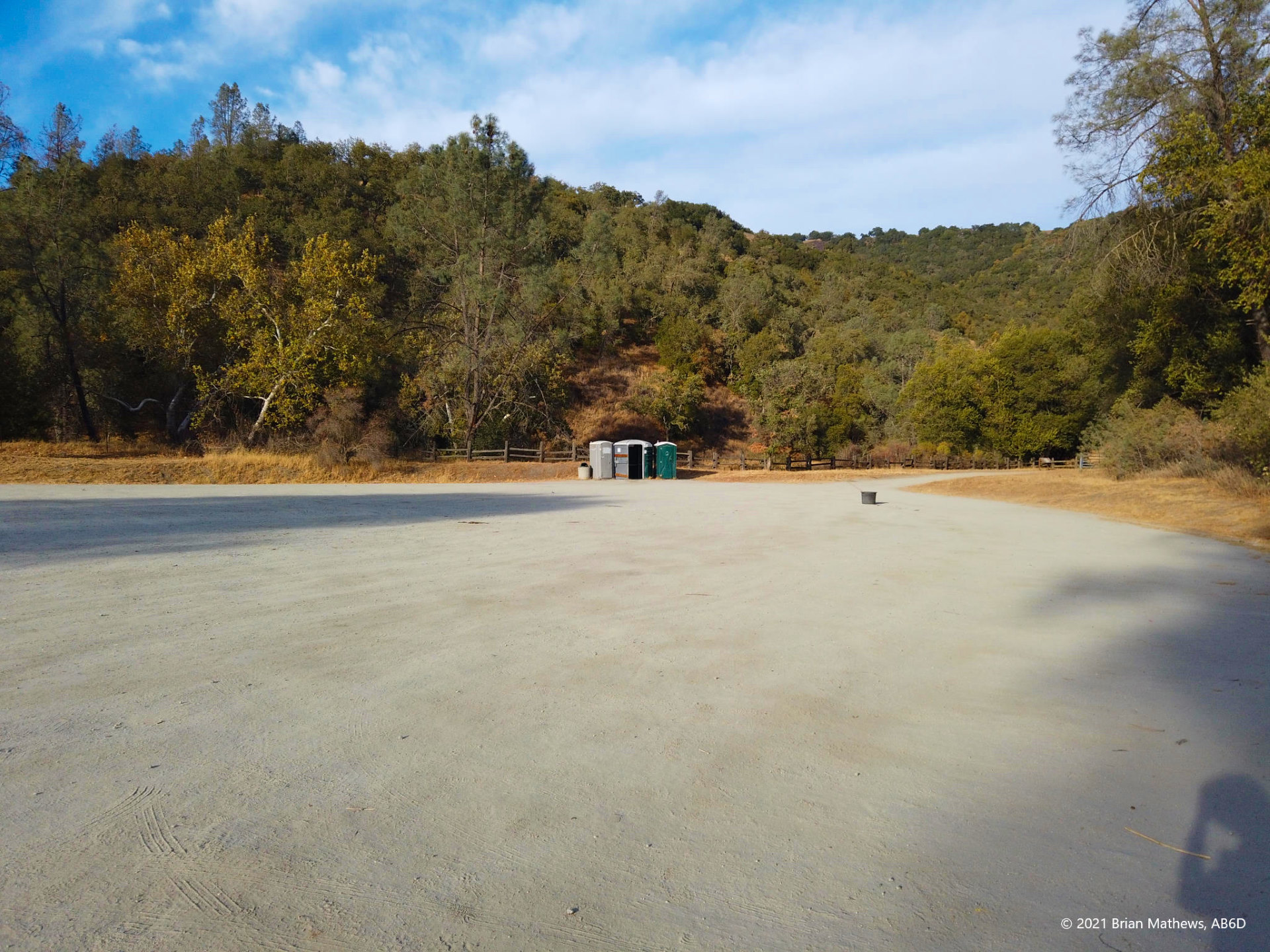 There are several routes to the top from the Hunting Hollow Entrance:
Steer Ridge Trail
Jim Donnelly Trail – (our route up)
Middle Steer Ridge Trail – (our route down)
Lyman Willson Ridge Trail
Everyone told us the easiest way up is the Jim Donnelly Trail (longer length to the same peak), which was graded for mountain bikes and is the trail we took. We only saw two bikers all day, but we started in the afternoon when most would have finished for the day. Leaving the Hunting Hollow parking lot, you walk a short way and veer right to avoid the Steer Ridge Trail trailhead that forks to the left. Not much further you see the sign below at your second left turn for the Jim Donnelly Trail. Take it.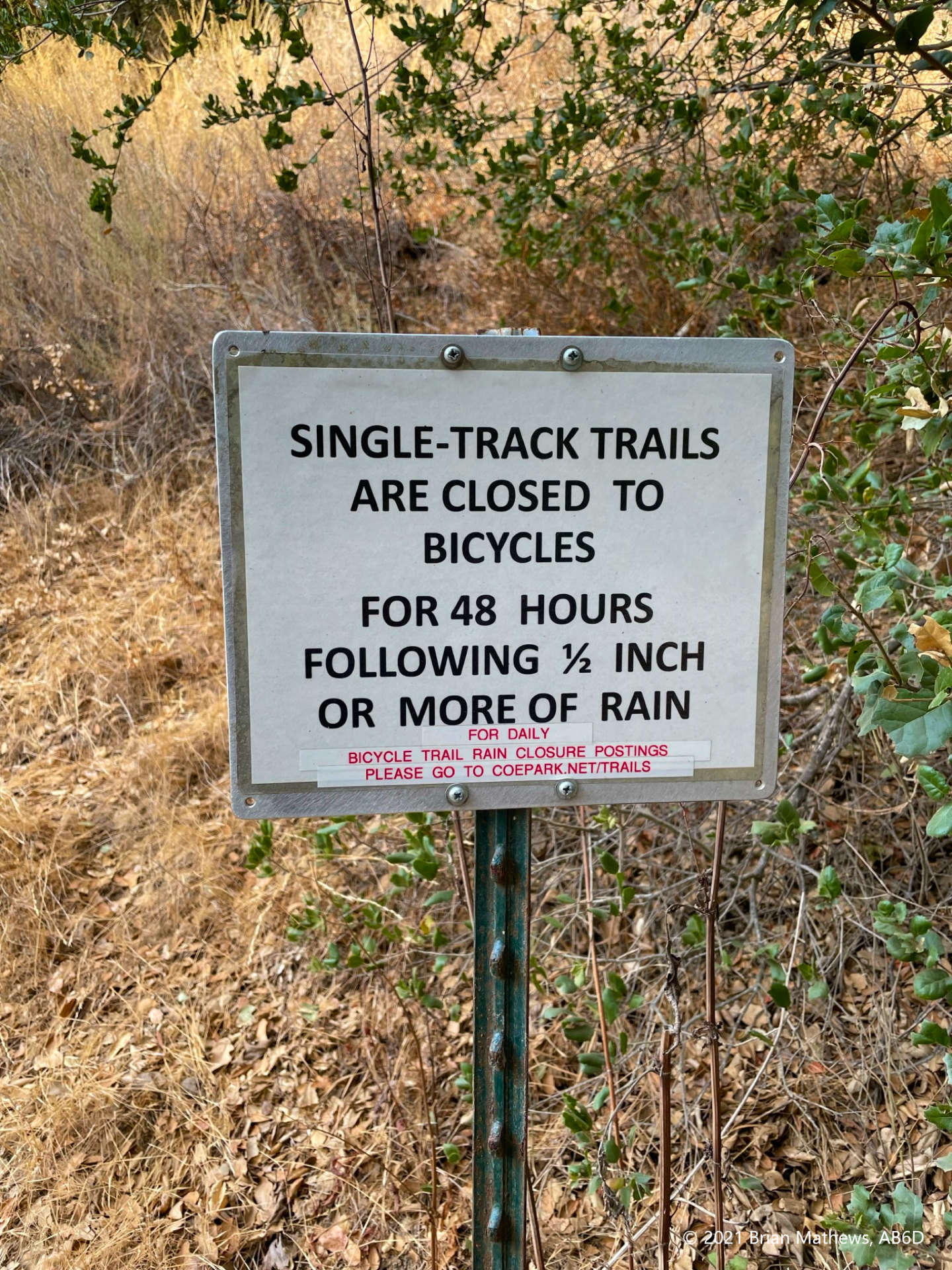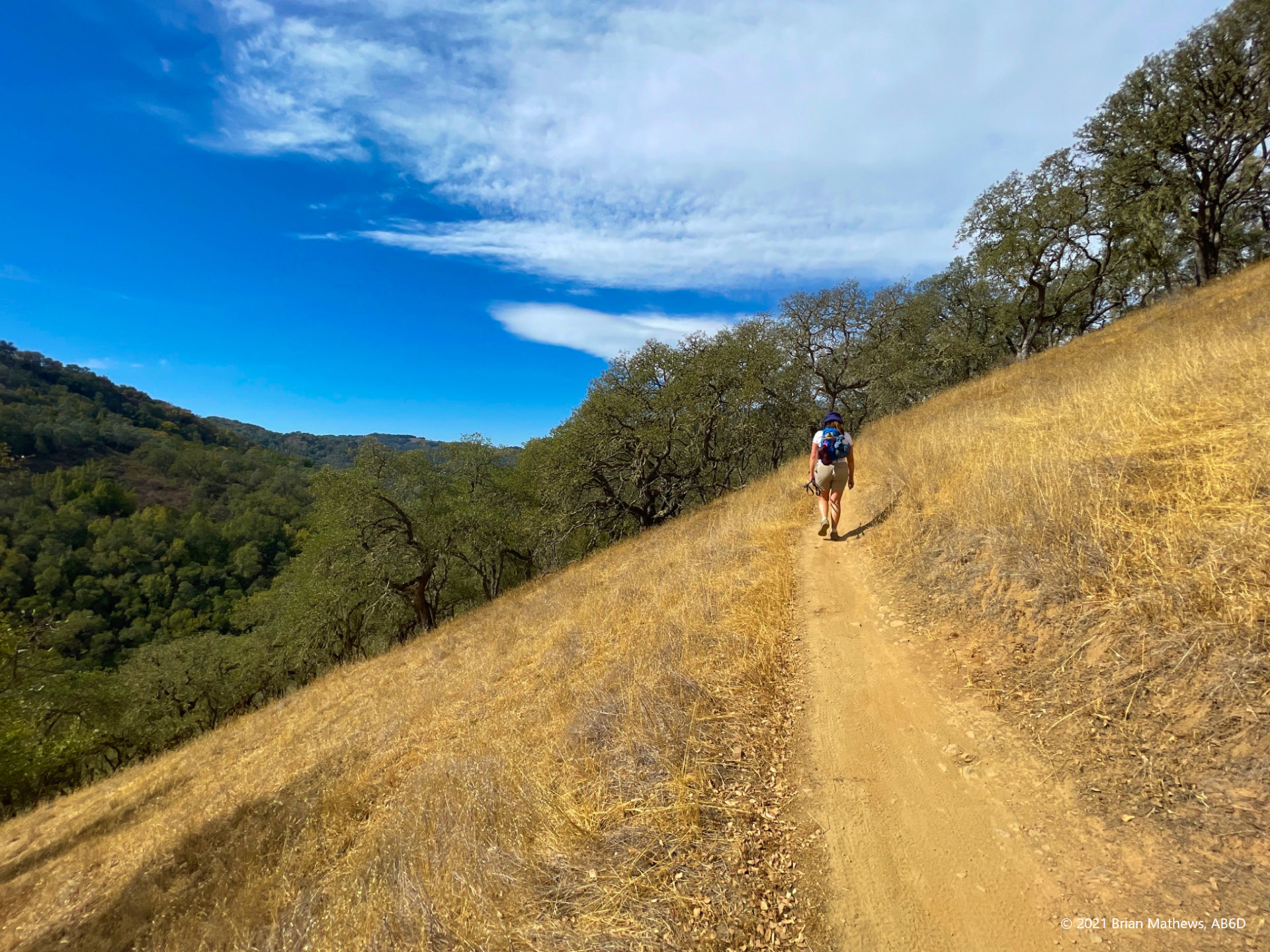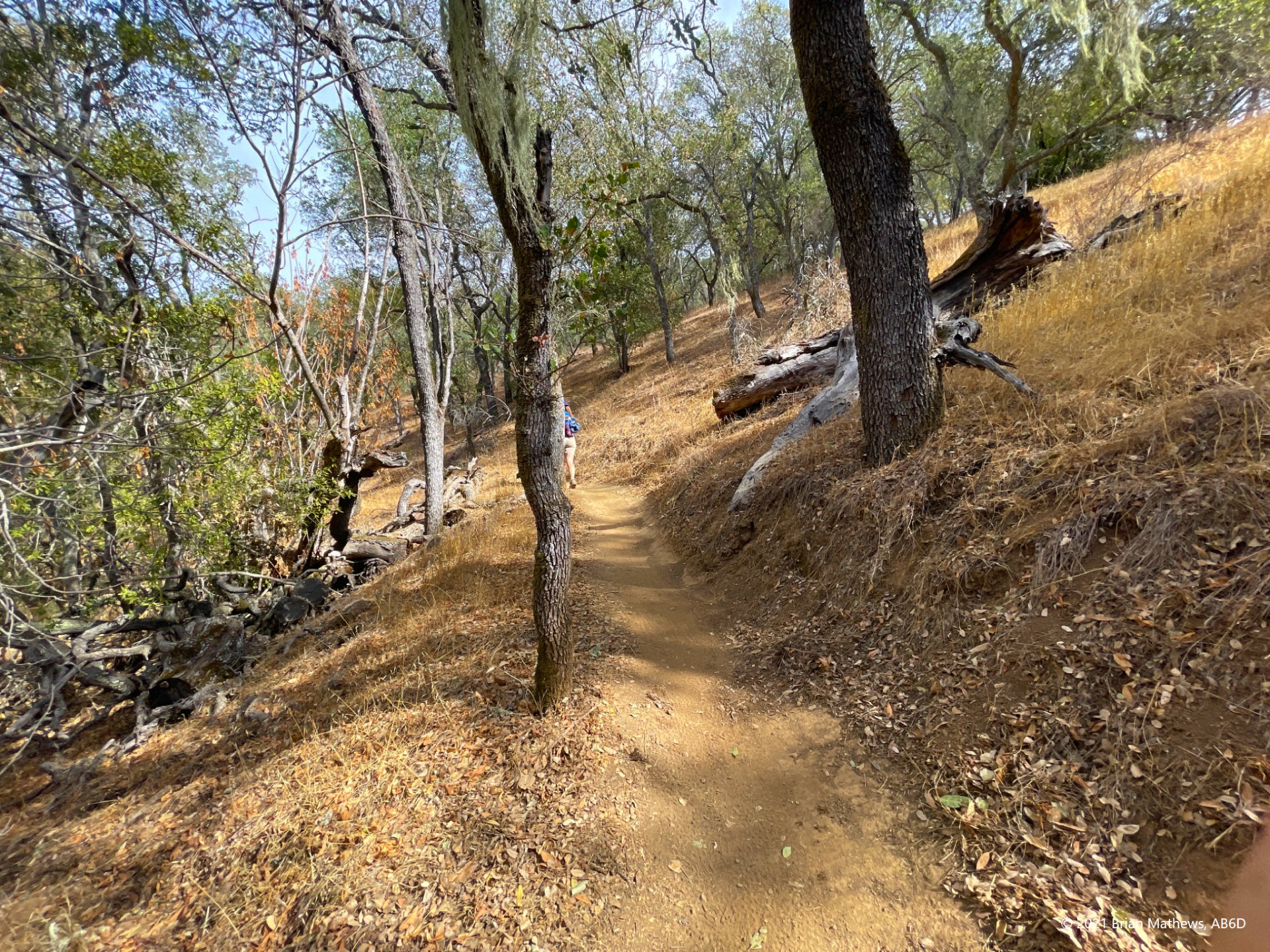 Eventually you get high enough to see the parking lot where you started, and the Santa Cruz Mountains in the distance, and some of the more forested areas of the Henry Coe State Park.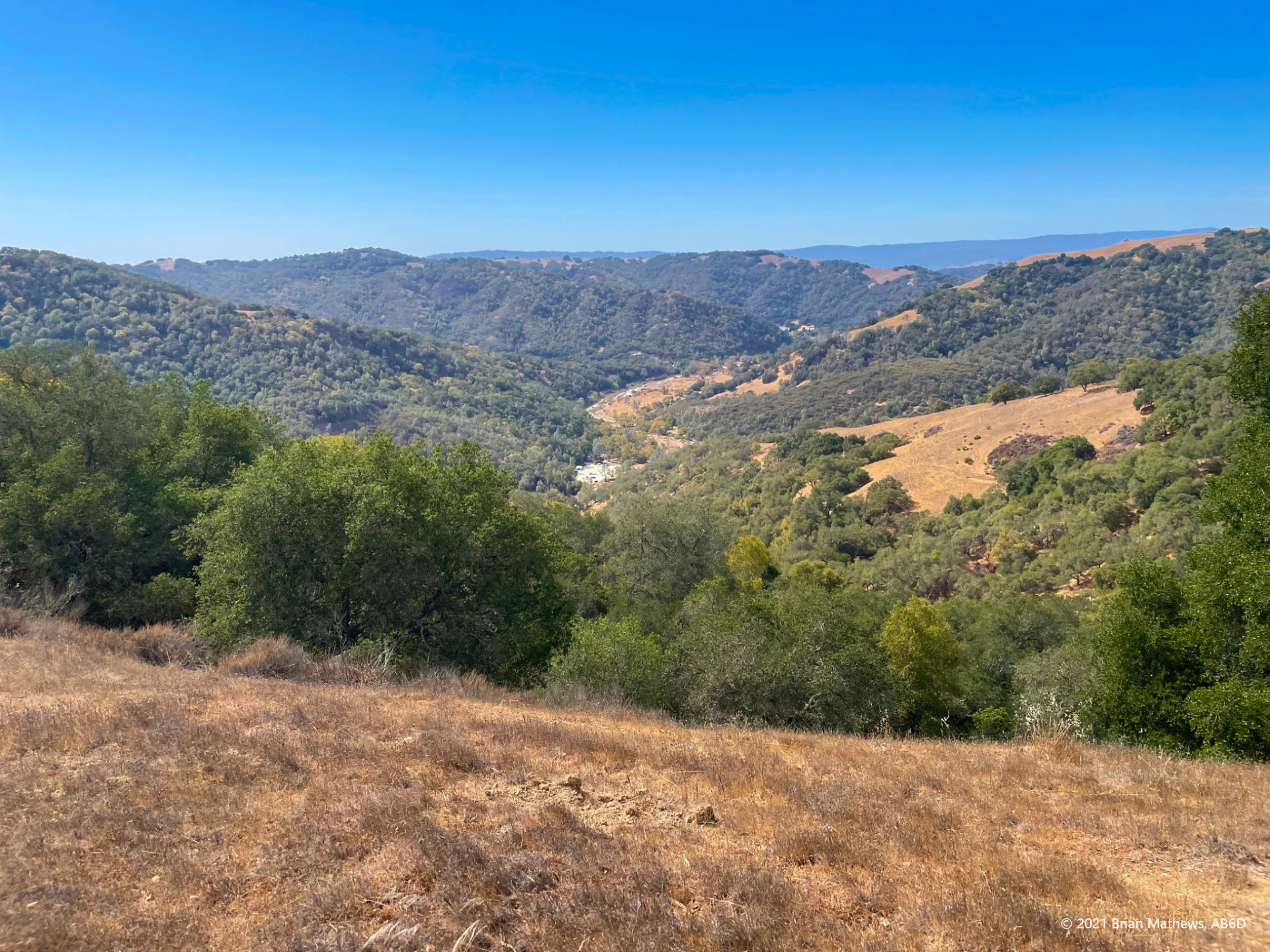 Eventually the Jim Donnelly trail ends at the Steer Ridge Road trail (one of the other routes you could have taken from the parking lot). As I always tell my wife "when in doubt, go up", which in this case was a right turn onto Steer Ridge Road.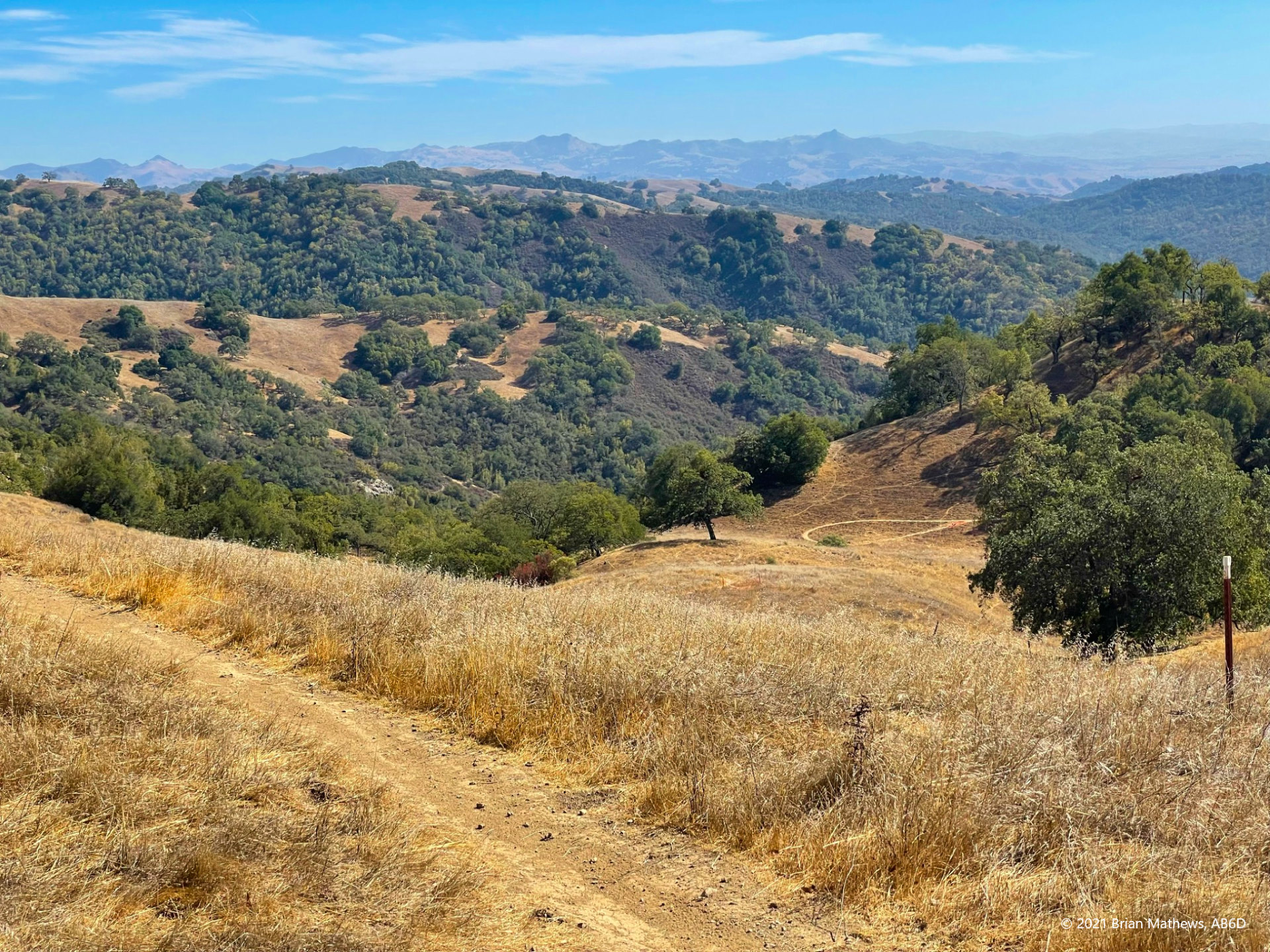 At this intersection, in the picture below you can see the Lick Observatory on Mount Hamilton in the distance (the white dots on the peaks are the telescope domes). Just in front of Mount Hamilton is Mount Isabel – these are the only 4-point SOTA peaks in the area. Mount Hamilton is currently closed due to forest fire damage (and COVID-19) but in my post you'll see that 2022 might be the partial reopening. Much of the Mount Isabel region is also currently closed due to fire damage.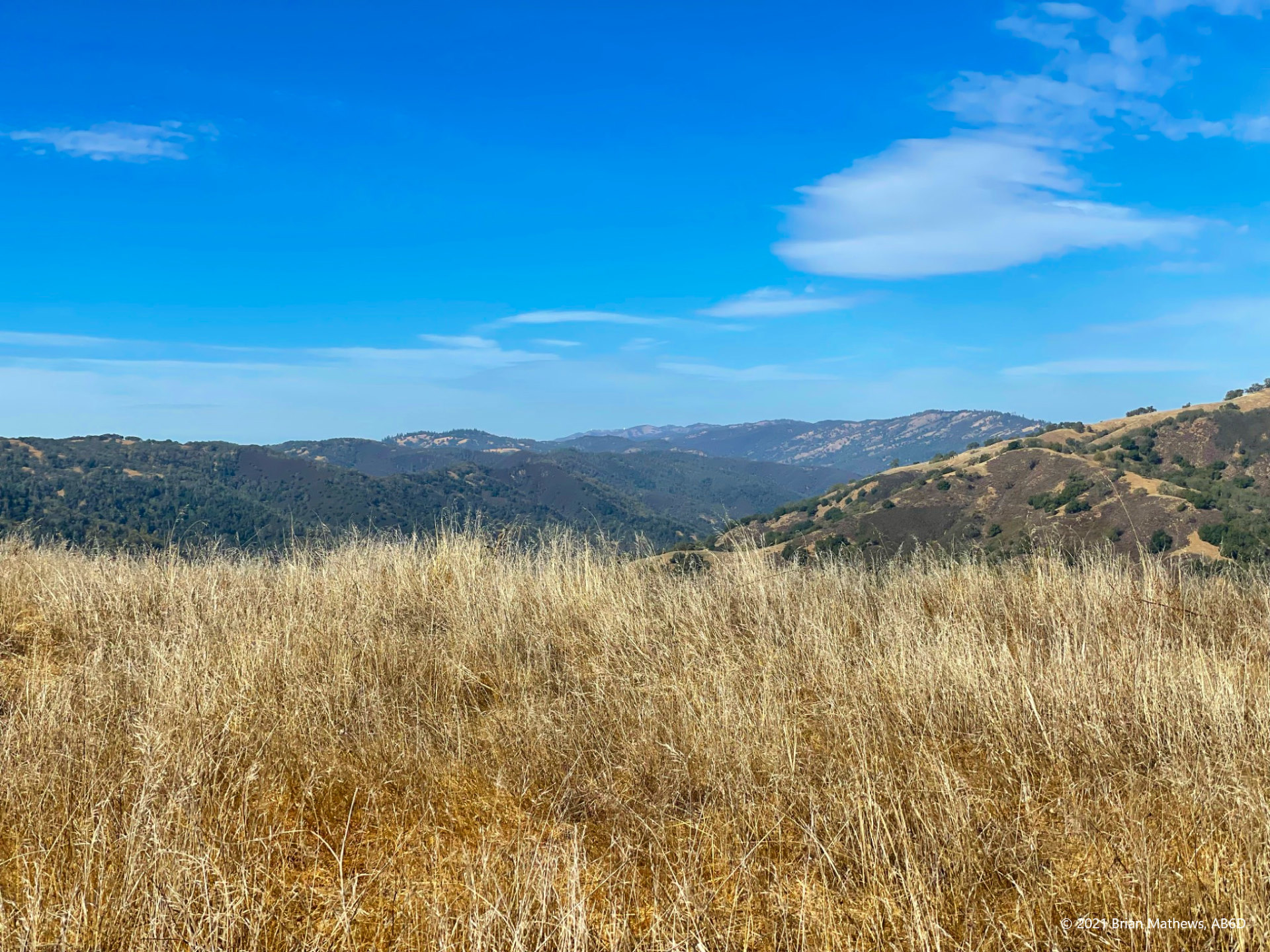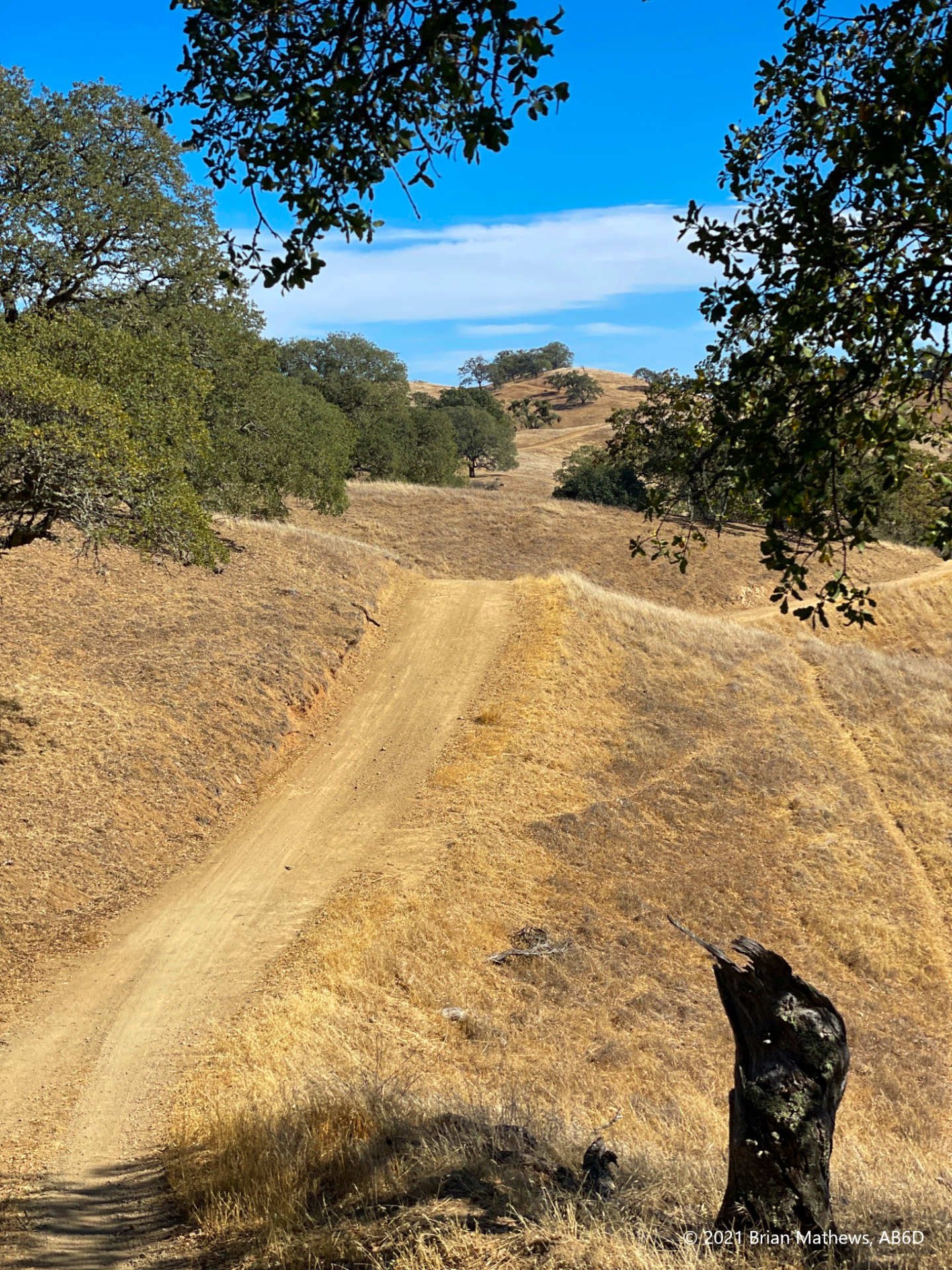 When you are quite close to the peak you will see these plants growing in an odd way. Being an electrical engineer / software guy, I don't understand what causes them to grow in a circular pattern but not connect. And why are they so dense here, but nowhere else on our trip? Please email me if you can explain.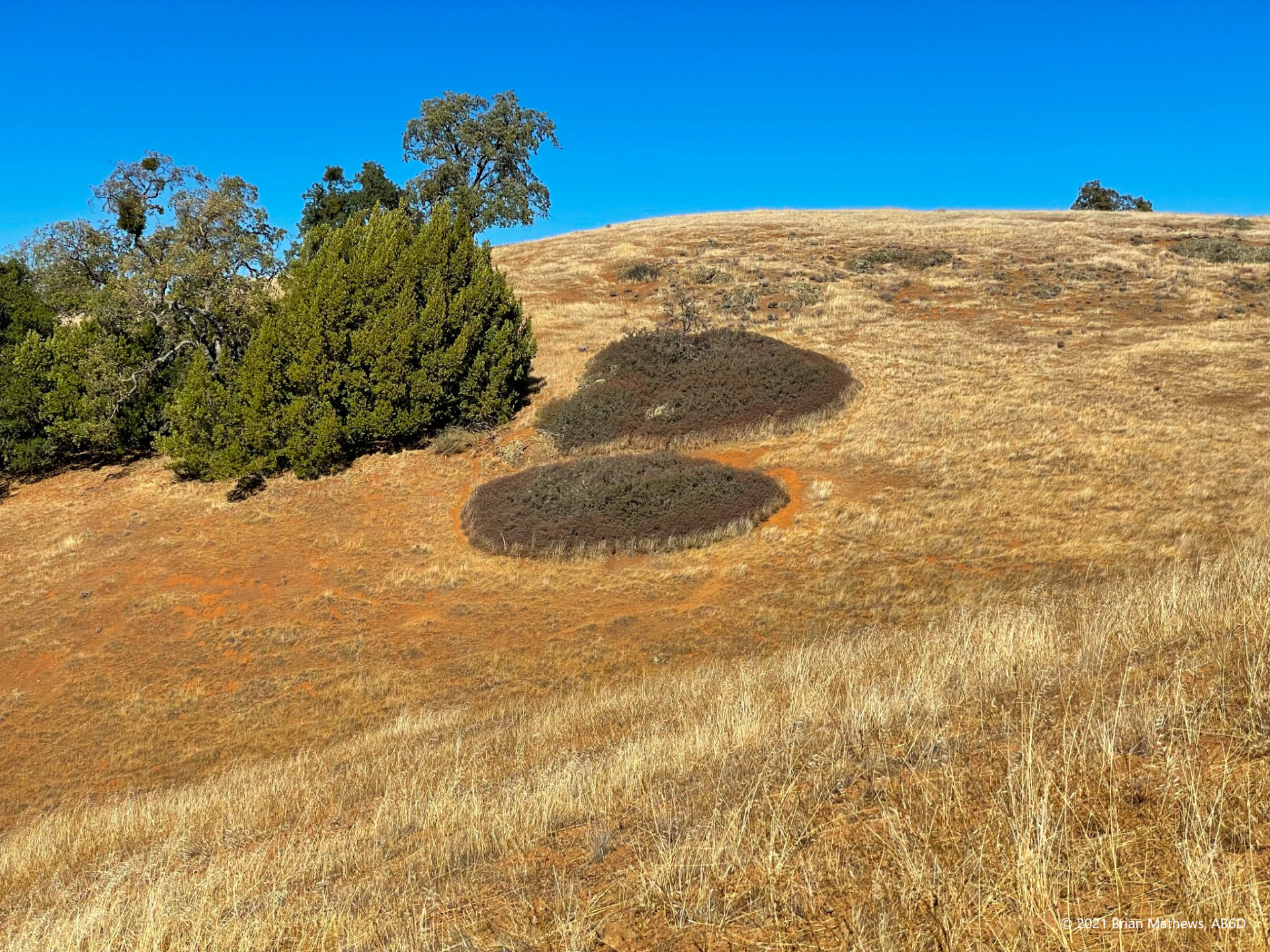 Finally you arrive at the peak, with a bit of surprise at the suddenness of its arrival. There are two survey markers several feet apart which I find interesting. At this point the weather was changing quickly as a predicted storm was approaching (the first of the season). The wind on the peak was picking up and the temperature was going down.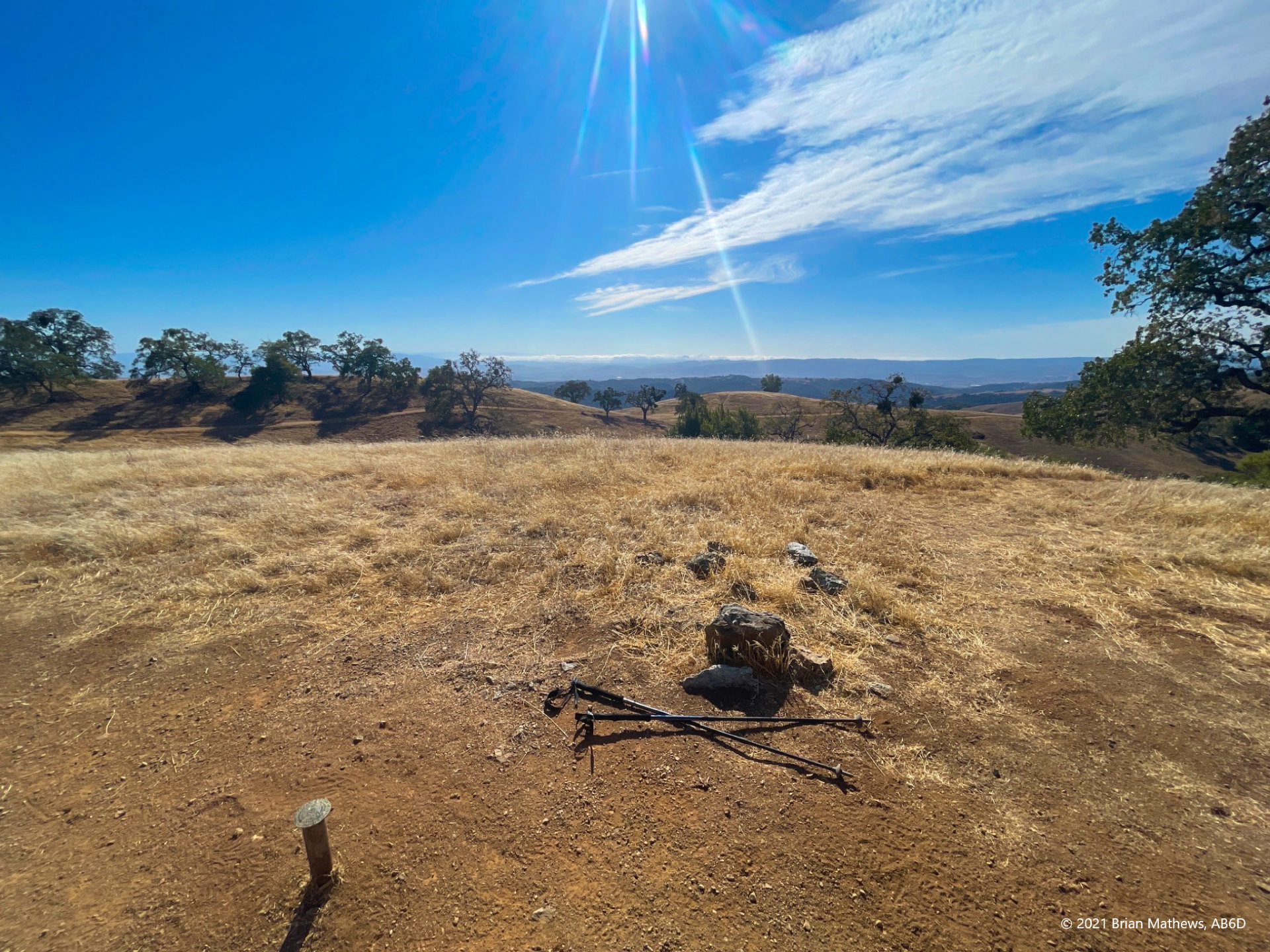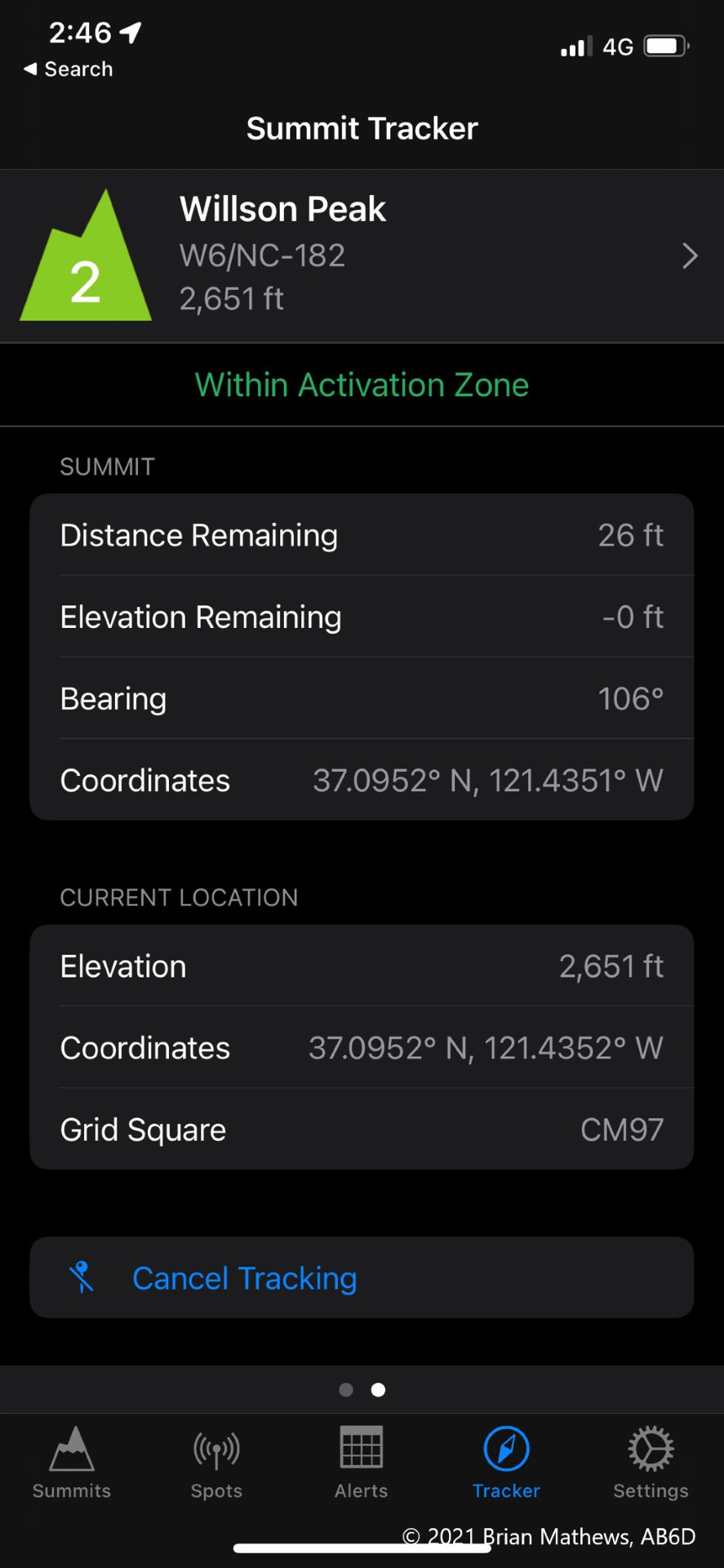 I moved a bit lower to avoid the worst of the wind and set up my carbon fishing pole (the $28 carbon fiber pole is the same length as the SOTAbeams pole at a fraction of the price and a full pound less weight!). Here I've got my Elecraft KX3, random wire antenna with ground wire, and a Bioenno LiFePO4 battery. I also have an amazing rain jacket (for wind in this case) that I picked up from an REI clearance – high-tech high-end gear I normally wouldn't buy. It collapses small enough to fit into a coffee mug and weighs almost nothing, but can save you from suffering.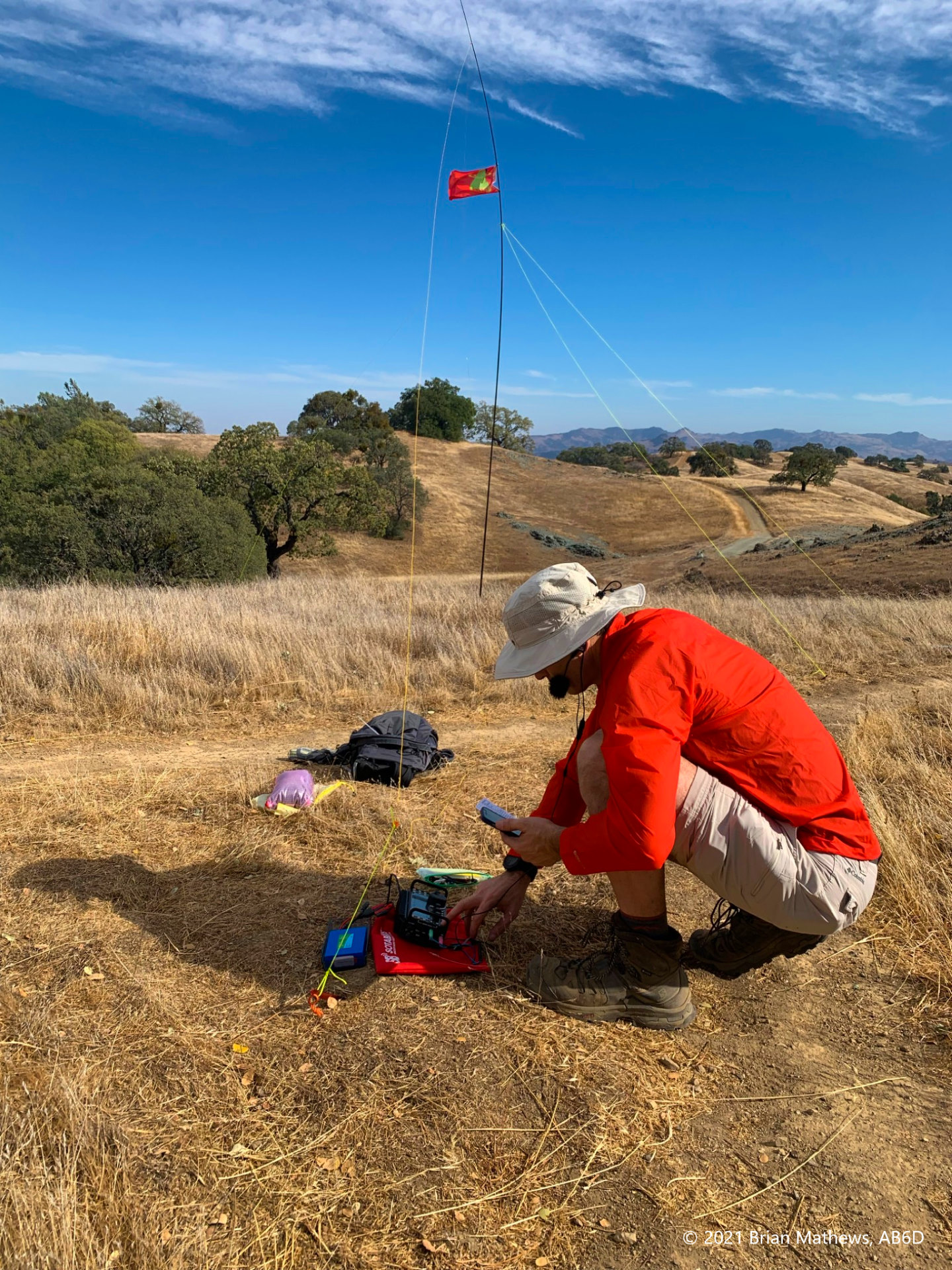 This was a fabulous activation: one of the best I've ever had. It started with a summit-to-summit activation, and after I self-spotted on another frequency there was a quick pileup including several more summit-to-summit contacts. What fun! My wife reads eBooks while I work the air waves (she is licensed but not into SOTA, and yes, she tried it once).
We had a snack, I packed up, and we started down. I had such fun I was skipping down the mountain afterwards. Rather than retrace our steps, we took the Steer Ridge Road down, but not the way we came up (Steer Ridge Road continues just under and past the peak).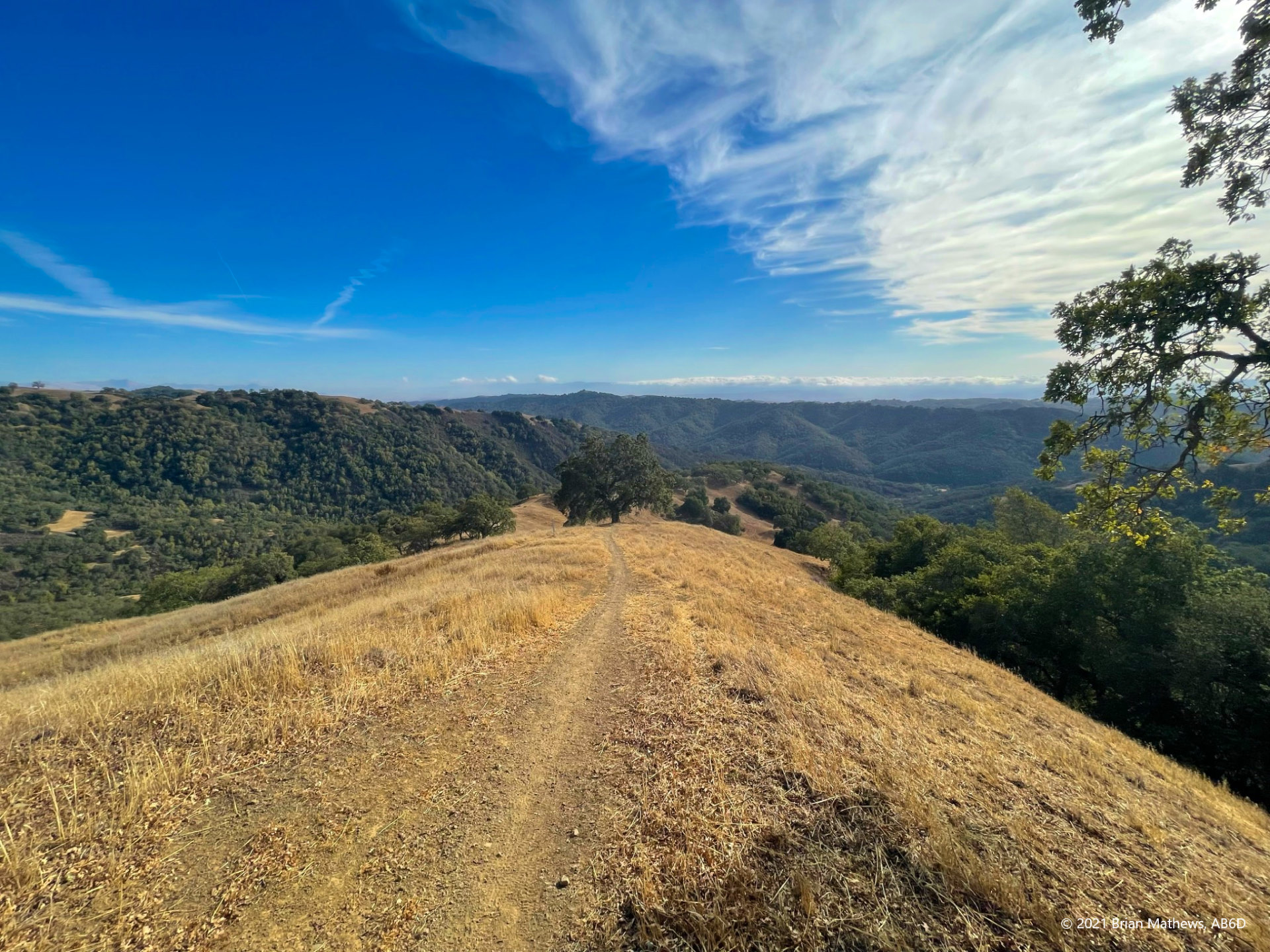 Eventually we took a right turn onto Lyman Willson Ridge Trail which is definitely steeper than the way up. We were very happy to have our hiking poles in a few sections.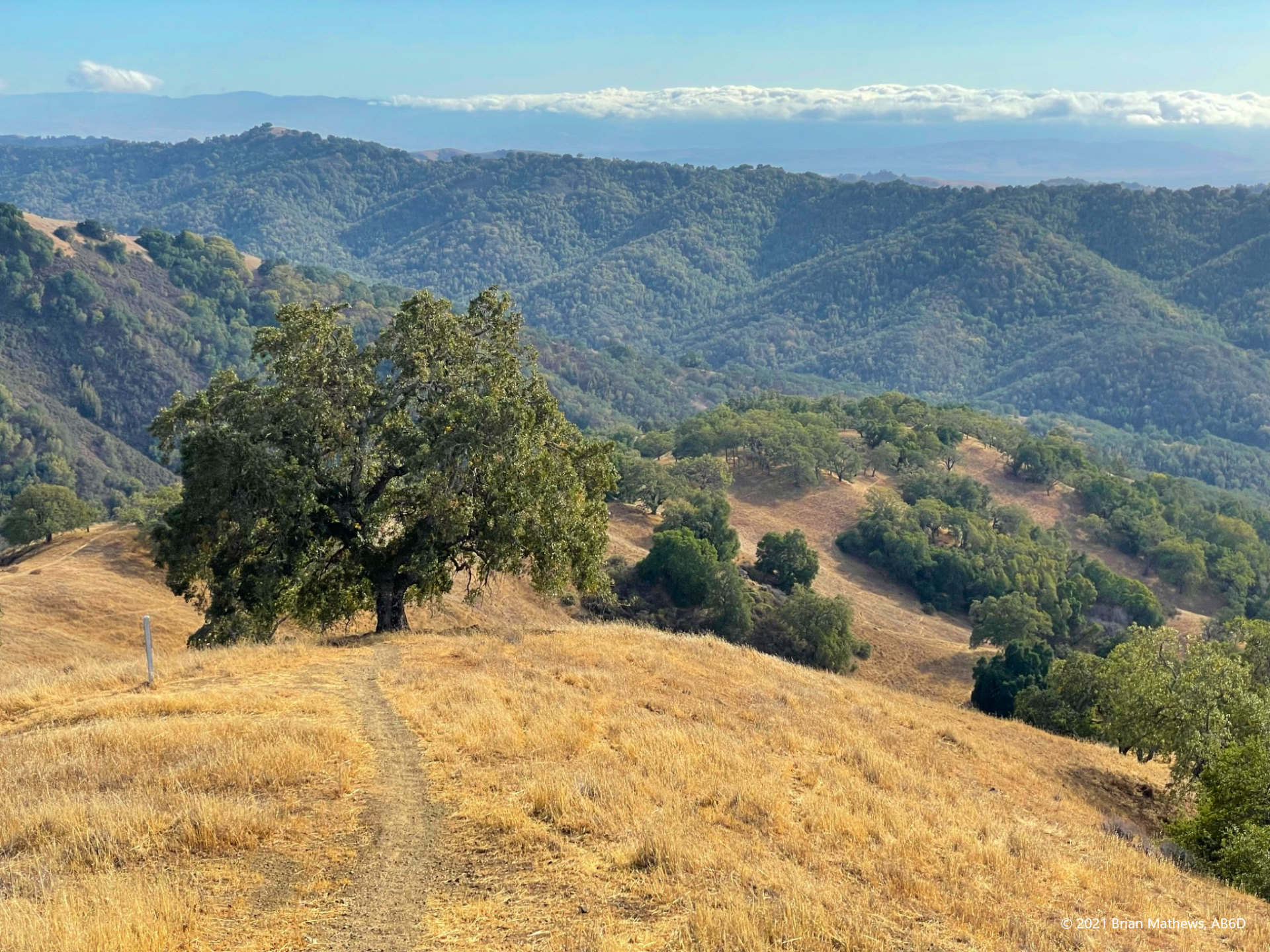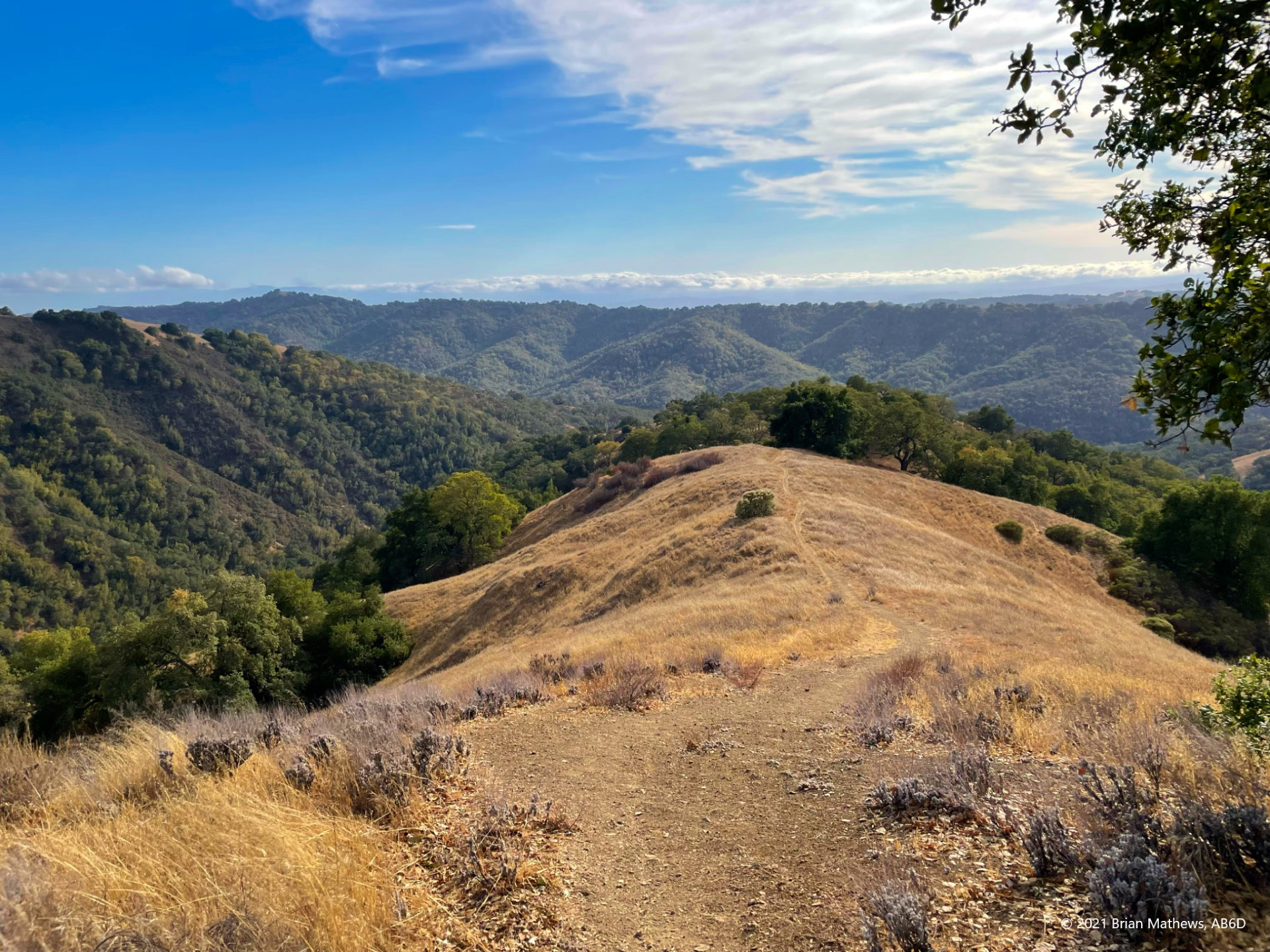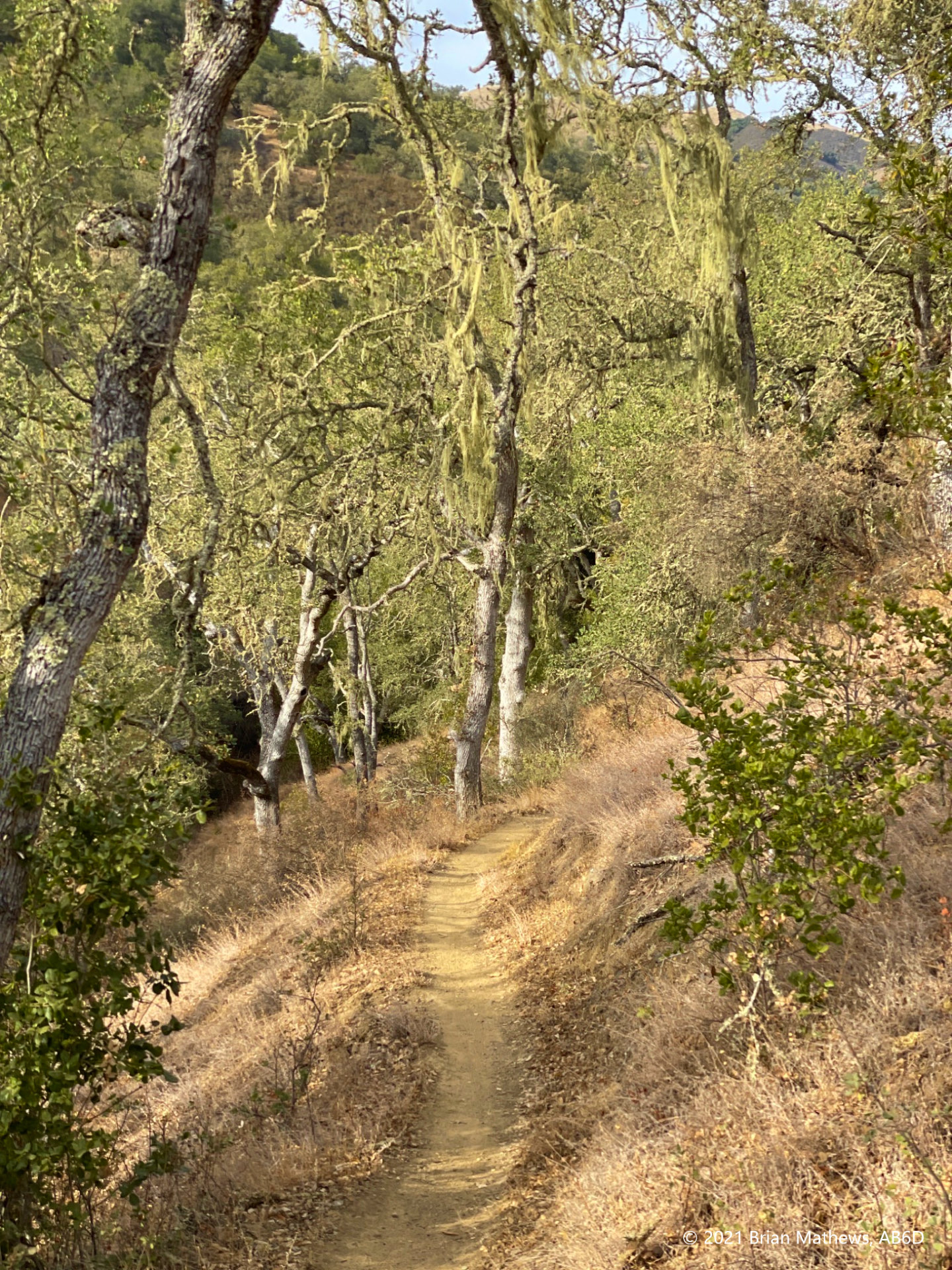 Eventually the Lyman Willson trail ends and you end up on Hunting Hollow Road for a short hike back to the parking lot.
| | |
| --- | --- |
| Reported data below is: | Round-trip |
| Summit Name | Willson Peak |
| Summit ID | W6/NC-182 |
| AB6D's activation date | 2021-10-17 |
| Region (ex. County) | Santa Clara, CA |
| SOTA Points | 2 |
| Prior activations at date of summit | 17 |
| QSO's made by AB6D | 11 |
| Summit Elevation (ft) | 2,651 |
| Trailhead Elevation (ft) | 856 |
| Total Ascent on route used (ft) | 2,177 |
| Total Descent on route used (ft) | 2,157 |
| Round trip route (miles) | 7.99 |
| Enjoyment rating (10=best, see table) | 6 |
| Difficulty rating (10=hardest, see table) | 6 |
| RF Interference at peak | None |
| Fees | $6 |
| Spotting method used | Cellular (T-Mobile) SOTA-Goat |
| Activation zone antenna supports | Trees available |
| Landholder | California Department of Parks and Recreation |
| Restrictions | None |
| Trailhead (lat, long) | 37.07609, -121.46602 |
| Route | GaiaGPS, GPX |
| Moving Time | 3.25 hours |